The highly anticipated street racing festival, Toyota GAZOO Racing was an adrenaline filled weekend in its second leg at Malaysia Argo Exposition Park Serdang (MAEPS), Serdang. 20,000 event attendees were served with an enthrilling two day spectacular on and off the race track.
The inaugural racing festival was brought to life with the participation of top local race drivers as well as A-list celebrity drivers such as Fattah Amin, Diana Danielle, Janna Nick, Shukri Yahaya, Geraldine Gan, Venice Min, Danny Koo and Shawn Lee.
All celebrities and professional drivers on the main stage during the Prize Giving Ceremony
Fans got up close and personal with their favourite celebrities while enjoying motor racing action, food truck galore, drift shows by Japanese professional drivers, stage performances by Media Prima "Drama Sangat Tour" artists, car club parades, games and so much more! It was truly a family filled affair at MAEPS, Serdang.
For all the latest updates on event schedules and happenings, visit Toyota GAZOO Racing Facebook page at https://www.facebook.com/tgrmy/
[L-R] Shawn Lee, Fattah Amin, Diana Danielle, Shukri Yahaya, Geraldine Gan, Danny Koo, Venice Min and Janna Nick posing for a freestyle shot
Shawn Lee during his celebratory speech after winning the promotional category race in Day 1
Fattah Amin taking a wefie with his fans
The Vios Challenge car in action
Diana Danielle all smiles when she came in as the first woman to win a spot in the top 3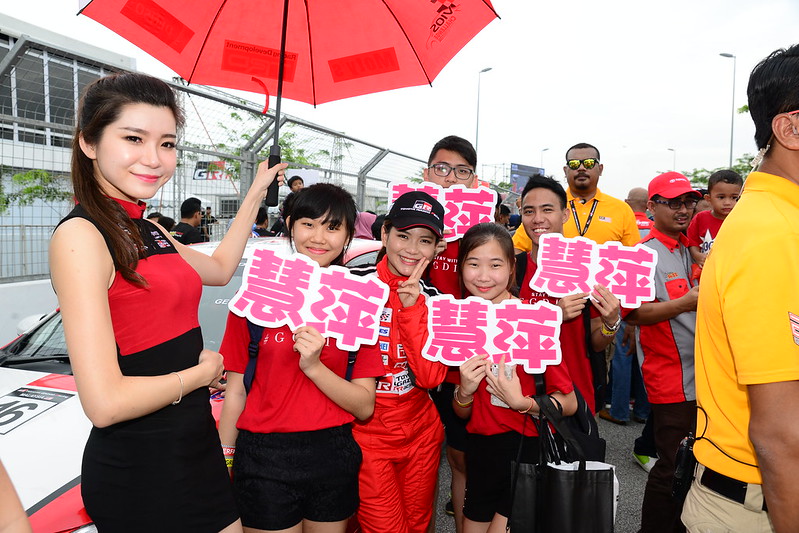 Fans of Geraldine Gan came to show their support in Day 2
Drift shows by professional Japanese drivers, Kawabata & Fujino
Venice Min preparing to start her Promotional Class Race in Day 1
Shukri Yahaya celebrates being number 1 on Day 2 of the race
Danny Koo all pumped up for Day 2 of the race
[L-R] Danny Koo, Shukri Yahaya and Diana Danielle, the top 3 winners from Promotional Class